ID: 173354

Daniela

Colombia

City: Medellin Age:

24

Birth Date:

12/25/1993

Zodiac: Capricorn

,

Rooster Weight:

130lb, 59kg

Height:

5'5", 165cm

Measurements:

34-28-39

Measurements cm:

86-70-100

Eye Color:

Black

Hair Color:

Black

Marital Status:

Single

Children:

None

Religion:

Atheist

Smoker:

No

Drinker:

No

Education:

High School Graduate

Company:

Private

Job Title:

Self-employed

Years Worked:

3

Sports:

Basketball

Hobbies:

Dancing, music, traveling, writing, reading

Languages:

Spanish (native)

Self Description: The most important for me is my family. My dream is to become a professional violinist, I am already studying it. I am very caring, loving and friendly, joyful and I love to laugh. I am radical in my decisions. I am very straight and honest, I am not very romantic, but I am affectionate. I am very determined with my decisions and aims. I am a serious and respectful in every meaning, with my obligations and with my surrounding. I am a dreamer, joyful and always with a positive attitude, doesn't matter the adversity. I value a lot the time of the other person. My aim is to live a tranquil life. I would love to find a real man who helps me to grow everyday as a woman and who supports me in every meaning.

Comments: First, you are determined and working on your projects and career. I will support you emotionally. Second, you love to be affectious. I love cuddles. Third, you are respectful, risky or determined and sure of yourself. Fourth, your physical appearance is not so important. Fifth, you are not jealous. I am looking for somebody who complements me. Sixth, That your family is the motor of your life, because a family person knows to love and to dedicate, to give. Seventh, you have the wish to become a better person everyday. Eighth, you do not like a lot going out and that you do not drink a lot of alcohol. I do not want a man from the common world. Nine, your hobbies (music, reading, writing, baking, nature) are similar to mine so that we can understand each other better and last but not least and very important is that you know what kind of woman you are looking for in your life.




My additional Photos
Medellin Tour Photos
Come see Daniela in Medellin
Write Me Now!
Send flowers
Call me Now!
Add Daniela (173354) to Hot List
View Hot List
FREE DATING SEMINAR SATURDAY - PHOENIX
RSVP NOW!
---
2018 Seminar Schedule
Phoenix, AZ Feb 24th, 2018
Houston, TX Match 24th, 2018
Dallas, TX Match 25th, 2018
Baltimore, MD April 7th, 2018
Jacksonville, FL April 8th, 2018
Minneapolis, MN April 14th, 2018
Denver, CO April 15th, 2018

(602) 553-8178 Ext. 204
RSVP ONLY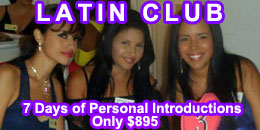 Latin Club